St. Lucie Intergroup Association, Inc.
24 Hour Hotline (772) 873-9299
OFFICE HOURS 10 AM – 2 PM WEEKDAYS
OFFICE LOCATION: IN THE PORT ST LUCIE PLAZA
881 E. Prima Vista Blvd. Port St. Lucie, FL 34952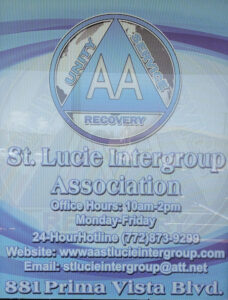 Intergroup Statement of Purpose:
To serve our associated Groups in carrying the AA message to the still suffering alcoholic according to the principals of the Twelve Steps, the 12 Traditions and the 12 Concepts of AA, always remembering that our common welfare comes first.
---
Download the Where&When meeting guide
---
Online Meeting Guide
Updated November 1, 2023

No personally identifiable information is maintained on this website, including by the Meeting Guide database.
---
Is
YOUR Home Group

supporting this office???
Click HERE to find out!!!
---
ADDRESSES FOR GROUP DONATIONS FOR 2023:
St. Lucie Intergroup Assn.: (772) 873-9299
881 East Prima Vista Blvd. – Port St. Lucie, FL 34952
http://aastlucieintergroup.com/
GSO (General Service Office)
Post Office Box 2407
James A Farley Station
New York, NY 10116-2407
http://www.aa.org/
Area 15 Treasurer Panel 73
PO Box 590835
Fort Lauderdale, FL 33359-0835
http://area15aa.org/
District 6 Treasurer
PO Box 12248 Fort Pierce, FL 34979
treasurer@district6aa.org
https://www.district6aa.org
---
District 6 Monthly Meetings are held on the 2nd Tuesday of every month at the Indian River College in Fort Pierce. All are welcome!
---
If you are unable or unwilling to attend an AA meeting in person, there are a number of other ways to connect with Alcoholics Anonymous:
Our District 6 Website has a Video Meeting Calendar of local online meetings HERE:
Here is a nation-wide link to online AA meetings:
Here's a suggested guide to conducting online meetings, including a possible format and many suggested readings/topics. (PDF format, click the blue link to open/download)
Find a telephone meeting directory at this link:
Alcoholics Anonymous as an organization neither supports nor recommends ZOOM; it is merely one of many available services similar to the Internet or telephones that members of our Fellowship find useful for communication.
Here's a link to the Zoom website where you may download software and apps, learn how to use Zoom and and find usage suggestions.
You can read and listen to the "Big Book," "Daily Reflections" and the "12 & 12" online at the Alcoholics Anonymous General Service Office website:
IF YOU KNOW OF ADDITIONAL ACTIVE MEETING LINKS TO SHARE, PLEASE EMAIL THEM TO BOTH THESE LINKS:
---
Please check our Newsletter  for details on upcoming events and news:
Downloadable PDF: Click a blue link to view. To download once the newsletter is visible, click the down-pointing arrow icon at top right of newsletter display, to the right of the printer icon.
No August 2016 Newsletter (On Vacation)
August 2014 Newsletter ________________________________________________________________________________ Grapevine Sobriety Calculator
---
This website is neither endorsed by nor affiliated with Alcoholics Anonymous World Services, Inc. The sole purpose of this website is to help carry the A.A. message to the alcoholic who still suffers. This website is maintained as a resource of public information by St Lucie Intergroup and, in accordance with the Seventh Tradition of Alcoholics Anonymous, is fully supported by the St Lucie County A.A. groups it serves. The trademarks A.A. and Alcoholics Anonymous©, The Grapevine©, and The Big Book© are registered trademarks of Alcoholics Anonymous©.